About Catherine MacDiarmid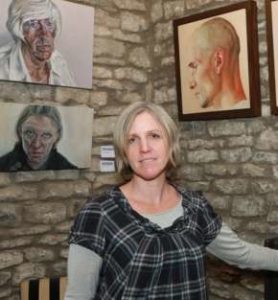 Catherine's work is figurative with a keen interest in expression, gesture and movement.  Working mainly in oils and charcoal, she takes inspiration from the people around her.
'Behind the Paint' and 'Personal Space' are themes exploring both the social and isolated aspects of life as an onlooking artist and attempts to reflect the awkwardness of exposure, scrutinisation, and the attention attracted through being in the public eye.
Catherine has a strong commitment to portraiture and has undertaken many private portrait commissions.  Her portraits are honest studies, where flattery and outward beauty are sometimes sacrificed for self reflection and meticulous detail.
Catherine has exhibited widely, including the BP Portrait Show 2001 and 2002, and has won many awards, including 1st prize at the Brewery Open in 2002.  Her work is collected nationally and internationally, and features in Sky Portrait Artist of the year 2014.